Project Team Organization and Project Structure
Research in SED is conducted by project teams that are assembled to address a particular set of questions posed by a sponsoring government organization. Projects can last from a few months to a few years and project team sizes can range from one or two people to more than a dozen. Most researchers work on several projects concurrently; these projects can span a variety of topics according to the researcher's professional interests and abilities. SED maintains a flat organizational structure and researchers can serve on different projects in both leadership and supporting roles at any one time. Project team members often work with a great degree of independence and self-direction on individual project tasks while collaborating closely with other team members under the direction of the team leader. The progress of the project and its research quality are periodically internally reviewed by an independent team of IDA researchers and managers before research products are delivered to the sponsor.
Types of Research and Analyses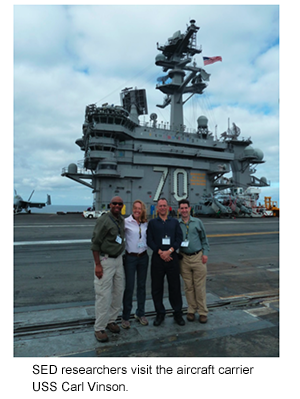 The type of work performed by SED researchers varies based on the type of project and the professional interests and abilities of the researcher. Some types of work include the development of analytical methodologies, metrics, and modeling and simulation tools; data mining for military operations research problems; evaluating system test data or modeling and simulation tools; providing critical assessments of technologies and systems; and examining concepts of employment for new systems. SED projects may provide the opportunity for travel several times a year to hold technical discussions and gather data from the military services, system program offices, defense agencies, combatant commands, intelligence community, and defense contractors; or to attend system test events, conferences, and government working group meetings.
A portion of a researcher's time is devoted to documenting research methodologies and research findings in memos and reports or briefing them orally to project sponsors or other interested parties. SED research products are delivered to the sponsoring office and only further distributed at the discretion of that office. Some project sponsors encourage the public distribution of research products and publication in the open literature.
Research Staff Collaboration and Development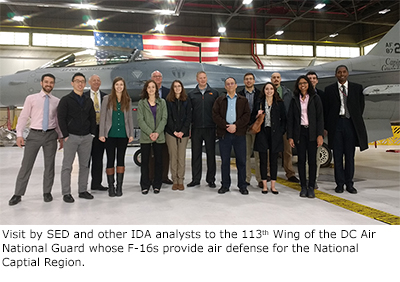 SED fosters an open-door, collaborative research environment in which researchers frequently consult with each other both within SED and among the different IDA research divisions and research centers. SED researchers often participate in cross-divisional work since our research often intersects with the areas of expertise of other IDA research divisions and research centers. For example, system evaluations may require life cycle cost estimates, up-to-date test data on newly-developed systems, the latest intelligence on potential adversary systems and doctrine, knowledge of U.S. military operational plans and warfighting doctrine, or an understanding of the domestic and international policy implications of fielding new systems. Likewise, SED researchers are valued for project work in other divisions due to their up-to-date knowledge of defense systems and their quantitative skills and technical knowledge. SED research is facilitated by access to IDA's internal research library services.
SED and IDA offer a number of opportunities to develop professionally and stay current on technical issues and national security problems. SED provides funds for researchers to attend conferences, government working group meetings, and professional training courses. IDA researchers can submit proposals for small internal research projects on topics of interest to the researcher that would benefit IDA and IDA's sponsors. IDA also regularly invites world-renowned technical experts and high-level national security officials and military officers to give seminars to the research staff; selected researchers are invited for lunch meetings with these speakers to discuss topics of mutual interest. IDA also runs cross-divisional and division-internal seminar series in which researchers can present their research or other topics of interest to their colleagues.
For more information on the IDA Research Environment, click on Career Opportunities at IDA.