Explore your potential at IDA!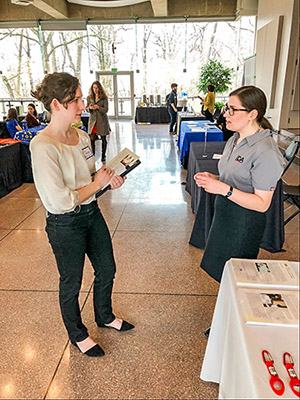 We're on campuses around the country actively looking for talented students and participating in events that provide students and faculty with information on IDA's analytical work and career opportunities. Whether at a university-sponsored career fair, a small group meeting, or a professional talk targeting a specific group of students, we continually seek opportunities to interact with students, help them learn more about what we do, and let them know where they might contribute. IDA also participates in industry conferences, professional society events and veteran job fairs seeking experienced professionals, former military officers, and veterans transitioning to the civilian workforce.

Browse the list of events below to find an event near you. This is an excellent opportunity to meet IDA research staff members and recruiters and learn about the company and our career opportunities.
2019 Campus Events
October 17, 2019

Northwestern University SWE Industry Day Career Fair
Evanston, IL

October 17, 2019

University of Chicago GRADFair
Chicago, IL

November 15, 2019

Engineering Career Fair Collaborative (Harvard, MIT, Tufts, Olin, Boston University, Yale)
Cambridge, MA

2019 Career Events
October 24, 2019

CyberCorps/Scholarship for Service Virtual Career Fair


November 7-9, 2019

Society of Women Engineers National Conference and Career Fair
Anaheim, CA

November 13, 2019

Bender Virtual Career Fair for People with Disabilities


November 14, 2019

Military Officer Career Networking Night sponsored by the West Point Society of DC
Arlington, VA

November 22, 2019

Corporate Gray Career Fair
Springfield, VA

December 6, 2019

Military Officer Job Fair sponsored by the West Point Society of DC
Arlington, VA



Questions on these events can be directed to employment@ida.org.