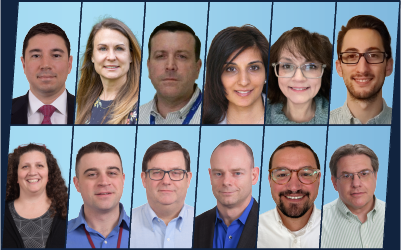 ---
The 2020 W. Y. Smith Award winners are Justin Belanger, Michelle "Micky" Celich, Justin Doescher, Chris Faber, Tom Hurrell, Chris Murphy, Chellye Promen, Rob Ritenour, Travis Roelke, Farzana Saleem, Tracy Stieber, and Warren Zabloudil. Named in honor of General William Y. Smith, who led IDA from late 1985 through late 1990, the award recognizes extraordinary individual or group contributions to IDA from the wide range of non-research exempt staff members who contribute to our success.
These individuals brought unique skills to bear in a collaboration among staff across the entire IT/Security Directorate to deploy successfully the ClassNet v4 Virtual Desktop Infrastructure (VDI) last year. The ClassNet v4 system is a large, complex IT system that provides individual virtual desktops to more than 650 staff members to support IDA's classified computing needs. Deploying this system demanded a dedicated team with combined knowledge and expertise in desktop engineering, virtualization engineering, application customization, security compliance, and systems management.
The team worked almost exclusively on this project from mid-2019 to late 2020, starting with system feasibility and design work through system launch. The project required team members to learn and acquire knowledge and skills outside their usual specialties. By building advanced subject matter expertise, they were able to ensure systems compatibility and integration of over 50 applications, each presenting its own complex requirements. The team addressed challenges by thinking outside the constraints of the system so they could deliver long-desired capabilities to the IDA community, including Google Earth from a thin client and Global Video Services that connect to SIPR VTCs.
Further, they deployed VDI despite the challenges incurred by the COVID pandemic. Vendor support of this classified system was curtailed to such an extent that the team often had to rely on themselves to resolve configuration problems and keep the project on schedule. Implementation, which began last summer, required copious work on-site.
The new VDI provides a flexible computing environment with immediate access to applications, more compute capability, high-end video graphics, and greater software integration. Staff will save time and effort because they can now access their classified applications from a thin client in their offices without having to relocate to a room with a desktop computer. None of this would be possible without the combined efforts of the individuals responsible for deploying the ClassNet v4 system. It is with great pride that we recognize their collective accomplishments by awarding them the 2020 W. Y. Smith Award. They are most deserving of this award.