IDA Africa Watch Newsletter Vol 3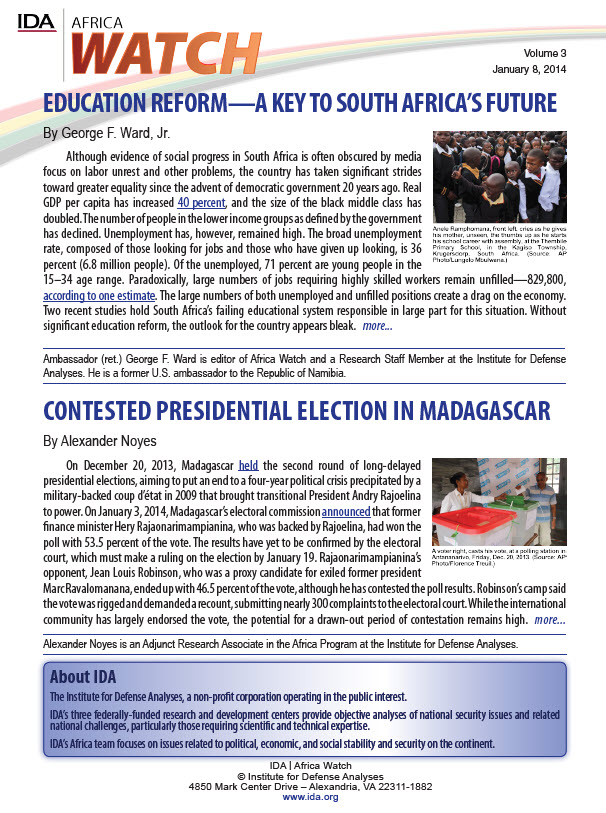 Volume 3, March 27, 2014

Burundi 2015: If at First You Don't Succeed...
Shale Gas: The Solution to South Africa's Energy Crisis?
Volume 3, March 20, 2014

Who will Succeed Angola's dos Santos?
Zimbabwe's Economy--Heading for New Trouble
Volume 3, March 13, 2014

Electronic Waste: Opportunity to Bridge the Digital Divide or Eco-Disaster?
Malawi Election Watch May 2014: Reasons for Optimism?
Volume 3, February 27, 2014

South Africa's Defense -
Time for Decisions?
A Viable "Third Way" Political Party in Mozambique?
Volume 3, February 20, 2014

Identity Politics in the Central African Republic
Urbanization + Construction + Illicit Trade = More Money Laundering Through Real Estate
Volume 3,February 12, 2014

The African Growth Story Continues--But What If...
Zimbabwe Opposition Faces Leadership Challenge
Volume 3,February 6, 2014

The Personalization of Political Power in Nigeria and South Africa: Style Over Substance
Elections in Bissau: Hope for the Best, but Expect the Worse
Volume 3, January 23, 2014

China-Japan Tensions Play Out in Africa
Police Vetting in Kenya Illustrates Both Progress and Challenges to Reform
Volume 3, January 16, 2014

Brazil: Looking to Expand Beyond Lusophone Africa?
Whither the Central African Republic?
Volume 3, January 8, 2014

Education Reform--A Key to South Africa's Future
Contested Presidential Election in Madagascar