IDA Africa Watch Newsletter Vol 2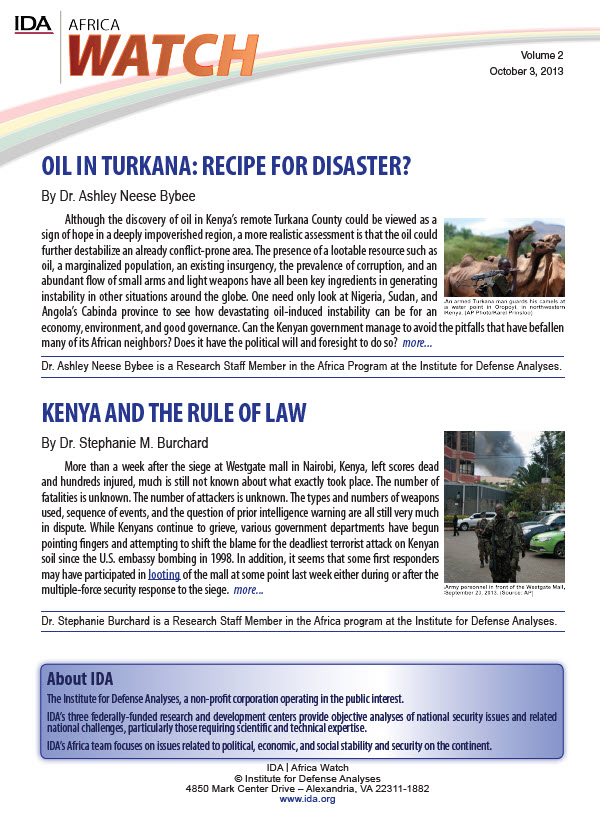 Volume 2, December 20, 2013

Countering Al-Shabaab's Role in the Charcoal Trade: Time for Economic Warfare
April 2014: A Look Forward to the Next Election in South Africa
Volume 2, December 13, 2013

France's Latest African Rescue Mission--The Central African Republic
The Fallout from Malawi's "Cashgate" Corruption Scandal
Volume 2, December 5, 2013

Petro-Pirates in the Gulf of Guinea
Despite Protests, Dos Santos and MPLA Firmly in Control of Angola
Volume 2, November 27, 2013

Waters of the Nile—Dispute Simmers but Armed Conflict Unlikely
Justice for the Victims of Post-Election Violence in Kenya: Delayed or Denied?
Volume 2, November 21, 2013

Angola's Sovereign Wealth Fund—Paving the Way for the Dos Santos Family Dynasty?
Radical Land Reform Unlikely in South Africa
Volume 2, November 14, 2013

Africa's Expanded Access to Credit Markets—Opportunity and Risk
The Crisis in Central African Republic: How Late is Too Late?
Volume 2, November 7, 2013

Ending Angola's and Portugal's Strategic Partnership: Political Posturing or Real Threat?
Zanu–PF Elections Highlight Tense Succession Battle in Zimbabwe
Volume 2, October 31, 2013

Madagascar: The Calm before the Storm?
East African Community—Coming Apart or Coming Together?
Volume 2, October 24, 2013

Africa Rising, but Not Its Leaders?
Renamo Reneges on 1992 Civil War Peace Deal in Mozambique
Volume 2, October 17, 2013

The M23 in the DRC—Dying or Thriving?
Democracy in Trouble: Assessing the State of Press Freedoms in East Africa
Volume 2, October 10, 2013

African Numbers
Women Jihadis: Emerging Trend or Media Fantasy?
Volume 2, October 3, 2013

Oil in Turkana: Recipe for Disaster?
Kenya and the Rule of Law