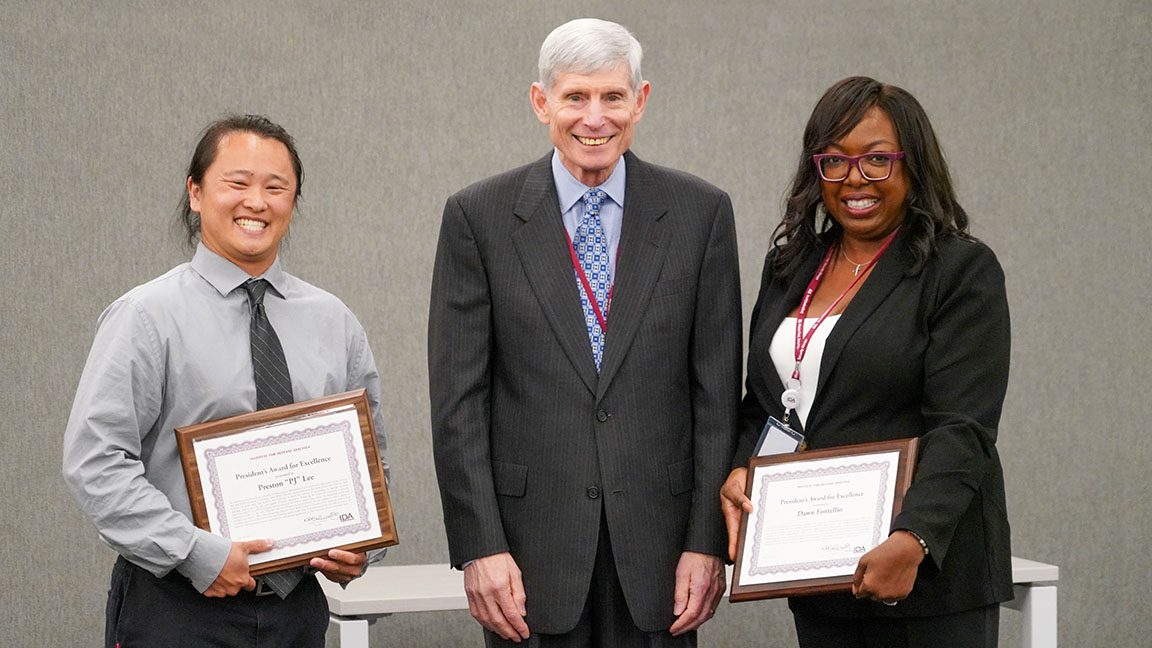 ---
2021 President's Award for Excellence
Dawn Fontellio and Preston "PJ" Lee are the winners of the 2021 President's Award for Excellence.
Dawn Fontellio
In 2021, Dawn Fontellio rose to the occasion when the Center for Communications Research, La Jolla encountered difficulties filling the position of information system security officer (ISSO). Dawn volunteered to take over the responsibilities of the role and served as acting ISSO until the position was filled. As acting ISSO, Dawn maintained CCR-L's Authority to Operate for its classified network.
Since Dawn joined CCR-L in 2017, she has been an indispensable member of the CCR-L team. Dawn frequently steps up and provides extra support when and wherever it's needed, even in addition to her regular duties, as was the case during this past year. As executive assistant, Dawn seamlessly managed workflow orderly and efficiently and was able to apply the same skills that make her a successful executive assistant to her temporary role as ISSO.
Preston "PJ" Lee
PJ Lee serves as computer systems support administrator in Enterprise IT Operations. His 10 years of experience and knowledge of IDA's IT operations proved to be especially valuable over the last year. "PJ made significant contributions through his work before, during and after the Potomac Yard relocation," said IDA President Norty Schwartz. "His efforts were instrumental in the successful move and critical to IDA's success." During the transition period, PJ frequently made daily trips between the company's former and current locations, organizing IT equipment and managing technical support for meetings.
In 2021, a global supply chain crisis (a consequence of the COVID-19 pandemic) led to crucial shortages as shipments were delayed. PJ addressed supply chain issues at IDA by innovating and implementing creative solutions. He took the initiative to research, test and set up systems for our virtual meeting rooms and our hybrid meetings environments. PJ was integral to configuring and deploying the video teleconferencing solutions from IDA's former headquarters to its current location while waiting for new equipment to arrive.