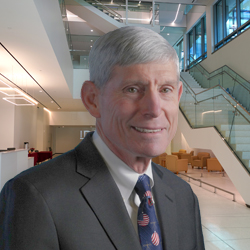 Norton A. Schwartz serves as President of the Institute for Defense Analyses (IDA), a nonprofit corporation operating in the public interest. IDA manages three Federally Funded Research and Development Centers that answer the most challenging U.S. security and science policy questions with objective analysis leveraging extraordinary scientific, technical, and analytic expertise. At IDA, General Schwartz (U.S. Air Force, retired) directs the activities of more than 1,000 scientists and technologists employed by IDA.
General Schwartz has a long and prestigious career of service and leadership that spans over 5 decades. He was most recently President and CEO of Business Executives for National Security (BENS). During his 6-year tenure at BENS, he was also a member of IDA's Board of Trustees.
Prior to retiring from the U.S. Air Force, General Schwartz served as the 19th Chief of Staff of the U.S. Air Force from 2008 to 2012. He previously held senior joint positions as Director of the Joint Staff and as the Commander of the U.S. Transportation Command. He began his service as a pilot with the airlift evacuation out of Vietnam in 1975.
General Schwartz is a U.S. Air Force Academy graduate and holds a master's degree in business administration from Central Michigan University. He is also an alumnus of the Armed Forces Staff College and the National War College.
He is a member of the Council on Foreign Relations and a 1994 Fellow of Massachusetts Institute of Technology's Seminar XXI. General Schwartz has been married to Suzie since 1981.