IDA Africa Watch Newsletter Vol 8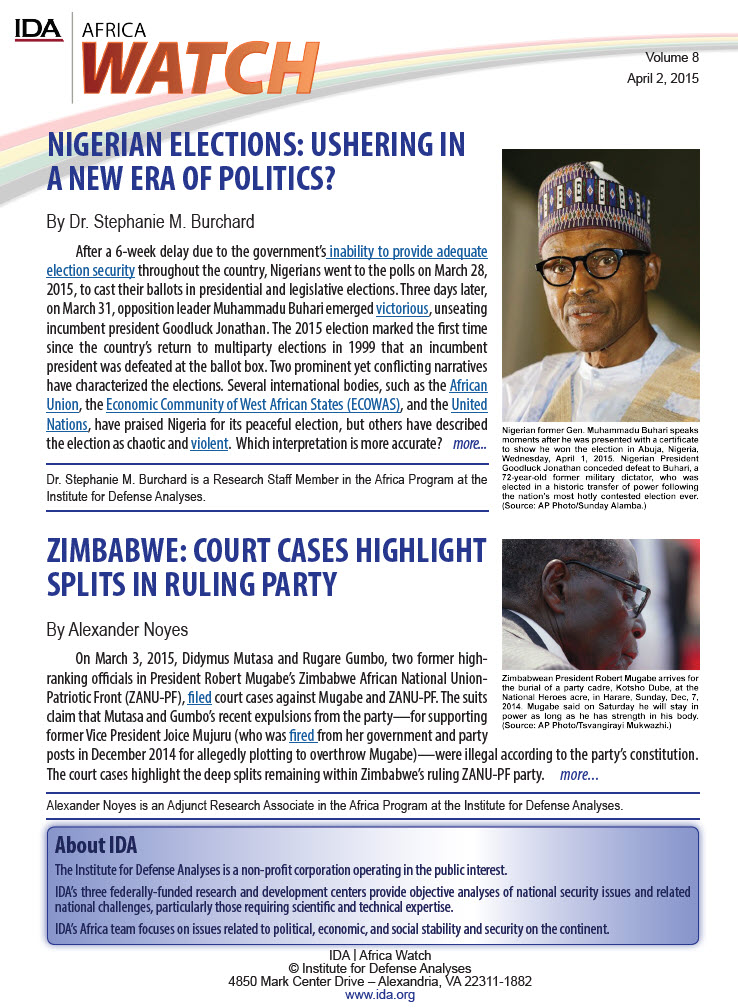 Volume 8, June 25, 2015

African Solutions for African Problems—Still Searching
African Democracy Emerges from Below
Volume 8, June 18, 2015

Intra-African Trade—A Problem of "Thick Borders"
Agriculture, Assumptions, and Data in Africa
Volume 8, June 11, 2015

Kabila's Attempt at a Third Term
Opposition Boycotts By-Elections in Zimbabwe
Volume 8, June 4, 2015

Ethnicity, Security, and Conflict in Burundi
Africa's Third Wave of Protests
Volume 8, May 14, 2015

Angola: Uptick in Protests
Togo President Reelected in Peaceful but Disputed Election
Volume 8, May 7, 2015

Nigeria's State Elections: Less Visible, Just as Important
Meeting Africa's Electricity Needs—What will the Future Look Like?
Volume 8, April 30, 2015

Xenophobia: South Africa's Successor to Apartheid
Does Peacekeeping Fuel Mutiny in Africa?
Volume 8, April 16, 2015

Another Kenyan Tragedy—A Pattern Too Familiar
Burundi 2015: Main Above Country?
Volume 8, April 2, 2015

Nigerian Elections: Ushering in a New Era of Politics?
Zimbabwe: Court Cases Highlight Splits in Ruling Party