IDA Africa Watch Newsletter Vol 6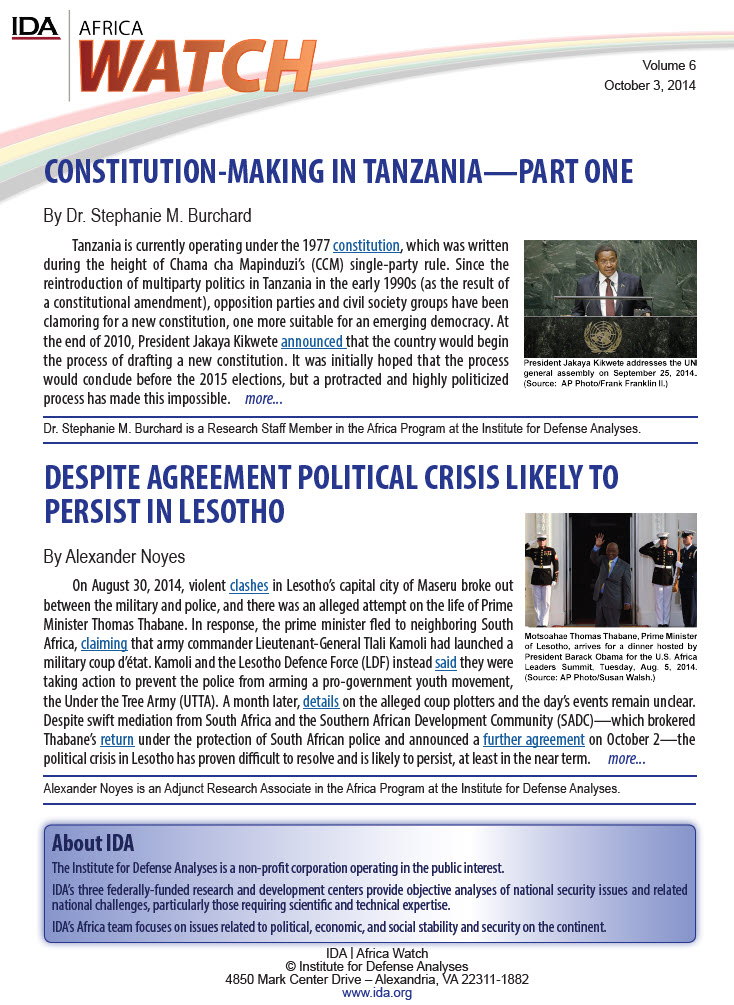 Volume 6, December 4, 2014

Women's Political Participation in Africa: An Upside of Conflict?
In the Midst of Protests, will Togo Follow Burkina Faso?
Volume 6, November 20, 2014

Nile Waters Dispute Tips Toward A Peaceful Solution
Constitution-Making in Tanzania: Precursor to Violence in 2015?
Volume 6, November 14, 2014

Can There Be A Good Coup?
Are Medical Research Facilities in Africa Secure Enough?
Volume 6, November 6, 2014

Zimbabwe—The First Lady Makes Waves
90 Days of Guy Scott: One Week Into a Transitioning Zambian Presidency
The Uncertain Durability of Longstanding Rulers and "Stable" Regimes in Africa
Volume 6, October 30, 2014

Constitution-Making in Tanzania: Part Three
Mozambique: Opposition Gains in Election
Volume 6, October 17, 2014

Madagascar: Ravalomanana Return and Detention a Threat to Recovery
Constitution-Making in Tanzania—Part Two
Volume 6, October 10, 2014

Kenya's Security—Westgate One Year On
Increased U.S. Oil Production Takes a Toll on Nigeria
Volume 6, October 3, 2014

Constitution-Making in Tanzania—Part One
Despite Agreement Political Crisis Likely to Persist in Lesotho