IDA Africa Watch Newsletter Vol 5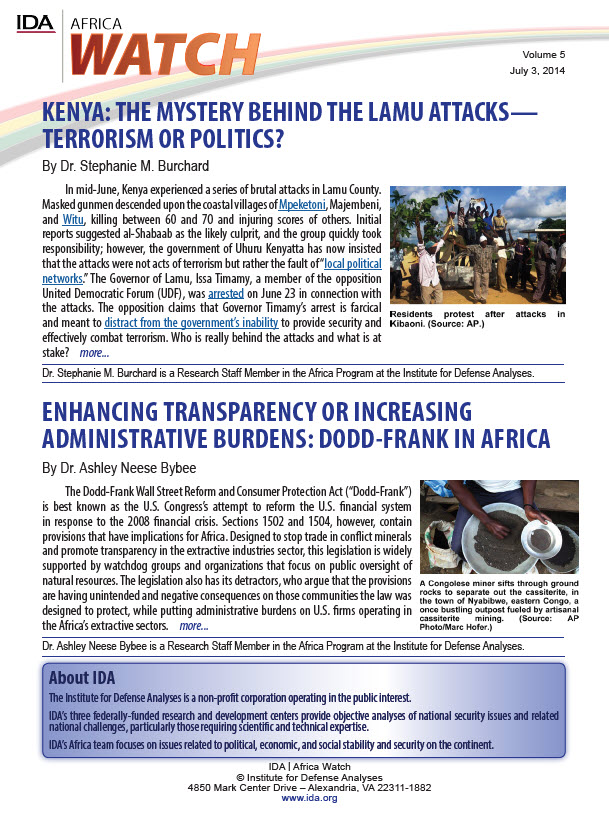 Volume 5, September 17, 2014

Ebola in West Africa—Also an Economic Toll
Angola's Sovereign Wealth Fund—A Progress Update
Volume 5, September 11, 2014

Al-Shabaab Under New Leadership
South African Defense Reform—Stuck in Low Gear
Volume 5, September 4, 2014

Zimbabwe's Mugabe at 90—Busy as Ever
Conflict in Central African Republic: Prospects for Peace
Volume 5, August 28, 2014

Developments In and Prospects for Ghana's Petroleum Sector
Botswana's 2014 Elections: Conspiracy Theories and a Long-Suffering Opposition—Recipe for Disaster?
Volume 5, August 21, 2014

Arts, Culture, and Civic Education in Africa
The Dilemmas of Training Africa's Militaries
Volume 5, August 14, 2014

Elections and Technology: Putting the Cart Before the Horse
Increasing African Debt: A Cause for Concern?
Volume 5, August 7, 2014

Islamic Finance Gaining Momentum in Africa
Zanzibar: A Power Sharing Success Story?
Volume 5, July 23, 2014

France in Africa—Setting Up for the Long Haul
Progress Toward New Peace Agreement Ahead of Elections in Mozambique
Volume 5, July 17, 2014

Ebola Outbreak in West Africa: Mistrust, Traditional Customs, and Misconceptions Fuel the Fire
Women and Boko Haram: Targets and Operatives?
Volume 5, July 10, 2014

The Somali Charcoal Industry—Strange Bedfellows
Coalition Crisis Sparks Coup Rumors in Lesotho
Volume 5, July 3, 2014

Kenya: The Mystery behind the Lamu Attacks—Terrorism or Politics?
Enhancing Transparency or Increasing Administrative Burdens: Dodd-Frank in Africa