IDA Africa Watch Newsletter Vol 12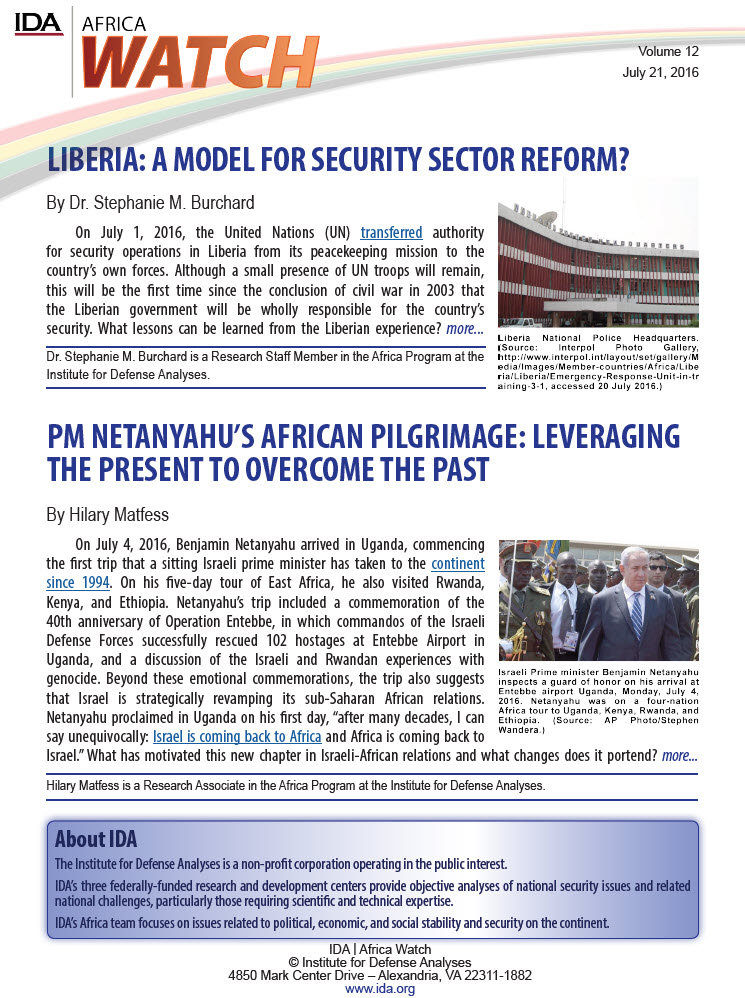 Volume 12, September 29, 2016

Democracy Delayed in Somalia
Can the Democratic Republic of the Congo Overcome Its Election Crisis Through Dialogue?
Can Natural Gas Rescue Mozambique's Economy?
Volume 12, September 22, 2016

Is ISIS Making Inroads in East Africa?
Drug Trafficking in Africa: From Transit Zone to Consumer Market?
The Obstacles to Consolidating Democracy in Gabon are Shared Throughout Region
Volume 12, September 8, 2016

Status of Boko Haram
Can the Upcoming CITES Conference Stop Elephant Poaching?
Volume 12, September 1, 2016

Somali Refugees in Dadaab: There to Stay?
East African Oil and Gas—The Future is Not Now
Securing the Virtual Savannah: Global Implications of African Cybercrime
Volume 12, August 25, 2016

IDA Support to the Threat Reduction in Africa (TRIA) Initiative
Intervention in South Sudan: Challenges Ahead
Ethiopian Intifada? Anti-Government Protests Shake the Ethiopian People's Revolutionary Democratic Front
Volume 12, August 18, 2016

In the Fight Against Boko Haram, What's the Role of the Multi-national Joint Task Force?
Shifting Allegiances in Zimbabwe's Powerful Security Sector?
Tanzania: Growing Concern Over Governance Reform
Volume 12, August 11, 2016

Democratic Republic of Congo: Delayed Elections Spark Political Unrest
Efforts at Pan-African Integration: New Variations on an Old Theme
Volume 12, August 4, 2016

Municipal Elections Shake Up South African Politics
Strangers in a Familiar Land: A Referendum of Invoirte?
Volume 12, July 28, 2016

Urbanization in Sub-Saharan Africa: Perils and Potential
Zimbabwe—Difficulties Multiply
Internal Divisions Aggravate Conflict in South Sudan
Miscalculating Security: Obstacles to Reliable Data in Sub-Saharan Africa and Their Implications
Volume 12, July 21, 2016

Liberia: A Model for Security Sector Reform?
PM Netanyahu's African Pilgrimage: Leveraging the Present to Overcome the Past
Elections in Zambia: Credibility at Stake
Unstable Foundations—Constitutional Insecurity and the Crisis in South Sudan