IDA Africa Watch Newsletter Vol 1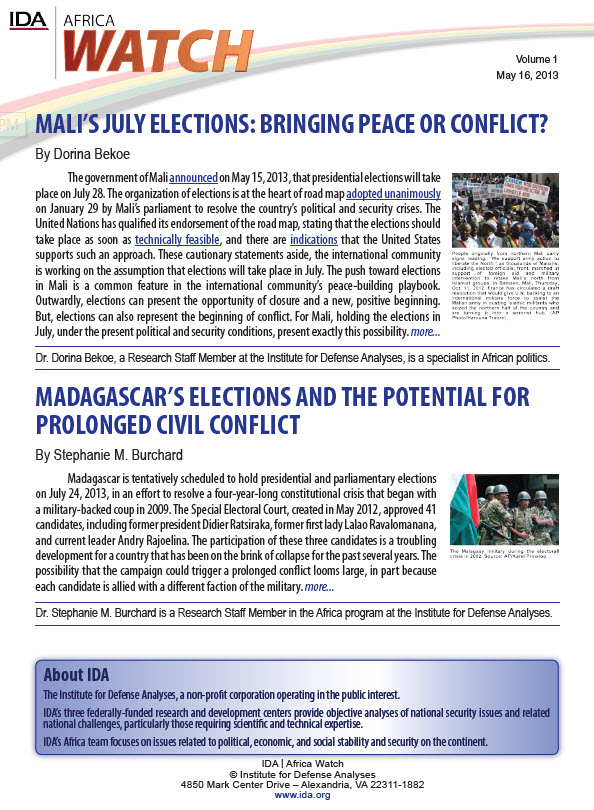 Volume 1, September 26, 2013

Westgate: The View From Nakuru, Nairobi, and Washington, D.C.
Mali—Too Early to Proclaim Victory
Volume 1, September 19, 2013

Somalia—Perspectives on The Juba Agreement
Guinea-Bissau: Little Democratic Progress Despite Small Wins
Volume 1, September 12, 2013

Political Reform in Burkina Faso: Concession Or Consolidation?
East African Regional Integration—No Easy Task
Volume 1, September 5, 2013

South Africa: Strikes Are Not the Main Problem—Slow Growth Is
Ghana and China: A Bilateral Balancing Act
Volume 1, August 29, 2013

Madagascar, Zimbabwe, and the Politics of Election Observation
Kenyatta's Visit to China--Less Than Meets The Eye?
Volume 1, August 14, 2013

Sata Faces Renewed Criticism Amid Increasing Political Violence in Zambia
Uganda's Oil Sector: On the Right Track?
Volume 1, August 8, 2013

Zimbabwe: Hegemonic Peace -- At Least for Now
DRC -- UN's Intervention Force Off to a Slow Start
Volume 1, August 1, 2013

Encouraging Developments to Ease Guinea's Political Paralysis?
Divided Military Remains Threat to Stability in Madagascar Ahead of Elections
Volume 1, July 25, 2013

Zimbabwe's Election - One Week to Go
After the Dust Has Settled: Kenya's 2013 Elections
Volume 1, July 17, 2013

Democracy by Coup?
Political Agreement Improves Electoral Environment in Togo
Volume 1, July 11, 2013

Japan in Africa -- Dealing with China's Lead
Volume 1, July 3, 2013

Electoral Violence in Africa: Critical Lessons and New Directions
Africa's Ever-Expanding Drug Scourge
Return to Conflict Unlikely Despite Upsurge of Political Violence in Mozambique
Volume 1, June 27, 2013

French Africa Policy Under Hollande--More than Mali
Africa Hemorrhaging: Illicit Capital Flight Threatens Africa's Development
Niger: Sahelian Dominoes?
Volume 1, June 21, 2013

Elections in Togo Unlikely to Resolve Political Crisis
Volume 1, June 13, 2013

Ethiopian Protest Demonstration--Government Liberalization or Symbolism?
How Fraud Migh (Indirectly) Promote Democracy in Africa
Volume 1, June 6, 2013

Coup-Proofing: Lessons from the Region for the Central African Republic
Policing in Kenya: From Politicized to Democratized?
Volume 1, May 30, 2013

Islamic Extremism and Uranium-The Witches' Brew in Niger
How Quickly We Forget: The Saga of the ICC Cases Against Kenyatta and Ruto
Volume 1, May 23, 2013

Without Security Reforms, Violent Elections Likely in Zimbabwe
RENAMO vs. FRELIMO: Could the Political Crisis Hold Development Hostage?
Volume 1, May 16, 2013

Mali's July Elections: Bringing Peace or Conflict?
Madagascar's Elections and the Potential for Violence Prolonged Civil Conflict
African Forces for African Problems?
Volume 1, May 6, 2013

Will Amnesty for Boko Haram Stop the Violence?
Punishing Corruption in Senegal: Justice or Retribution?