About the Program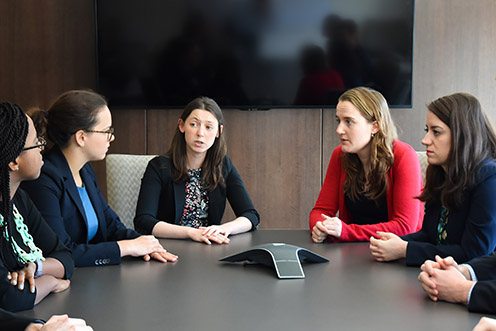 The Science and Technology Policy Institute's two year Fellowship provides recent bachelor's or master's degree recipients with a unique opportunity to use their critical thinking and analytic skills to work on a diverse set of challenges in science and technology (S&T) policy areas, including energy and the environment, space sciences, innovation and competitiveness, evaluation, life sciences, information technologies, national security, and STEM education. Fellows will be involved in collaborative research for leaders in the Office of Science and Technology Policy (OSTP) in the Executive Office of the President and other Federal Government organizations, such as the National Science Foundation and the National Institutes of Health.

Applications are accepted each year beginning in the fall, and selections are made in the spring of the following year.
What to Expect
Fellows work with teams of researchers to support a wide variety of S&T policy-related tasks. Over the course of the Fellowship, Fellows will have opportunities to develop professionally through the following types of activities:
Participation in analyses that support tasking from Federal Government policymakers
Training on specific analytical methods and tools
Involvement in workshops and discussions of relevant topics
Attendance and presentation at select professional society meetings
Interaction with OSTP and other Federal science agency personnel
Mentorship from members of the STPI research staff
Who Should Apply?
Innovative, analytical self-starters who are able to work well in teams are encouraged to apply. Ideal candidates will have at least a BS/BA degree conferred between May 2021 and July 2023 in one of a range of disciplines, including engineering, life sciences, physical sciences, social and behavioral sciences, computer science, mathematical sciences or statistics, and learning sciences. MA/MS-degree candidates and recipients are also encouraged to apply, provided their bachelor's degrees are within the May 2021 –July 2023 timeframe. Individuals with degrees higher than a master's degree are not eligible to apply.

Additional requirements include the following:
Interest in science and technology policy (however, previous policy experience is not required)
Demonstrated written and oral communication skills
Willingness to undergo a security investigation and ability to meet eligibility requirements for access to classified information
U.S. citizenship
Application Materials
To be considered for this opportunity:

Apply to the Science Policy Fellowship job posting through the IDA website.

In addition to the application, applicants at later stages in the process will be required to submit the following documents.

Submit the following supporting materials via email (PDF is preferred) to STPI-Fellow@ida.org:

Statement of purpose—explain in 1,000 words or less why you want to work in the area of science and technology policy and how your background/experience makes you a good candidate
Writing sample—5,000 words or less
Transcript—unofficial transcript is acceptable for consideration, but an official transcript is needed before any offer of employment will be made
Two letters of academic recommendations—letters must be signed by the individual rendering the reference. Letters can also be sent (again, PDF is preferred) directly to STPI-Fellow@ida.org by the recommender.
Your application and supporting materials must be received no later than January 16, 2023.
View FAQ for more information on Science Policy Fellowship
.