Since the 1950s, IDA's Center for Communications and Computing has performed fundamental research in support of the National Security Agency's mission in cryptology:
• Foreign signals intelligence and the security of information and
• Communications of the U.S. Government.
More recently, the Center for Communications and Computing – which consists of two Centers for Communications Research with offices in Princeton, New Jersey, and La Jolla, California, and the Center for Computing Sciences in Bowie, Maryland – has also worked on network security issues.
Within those broad areas, the research portfolio focuses particularly on the creation and analysis of sophisticated encryption methods, high‑speed computing technologies, the development of advanced algorithms and their applications, algorithmic and mathematical foundations of cryptology, computer network technologies supporting communications security, information processing technologies supporting cyber security, and analytical applications for large data sets.
Although the IDA Centers in Princeton and La Jolla were founded to focus on the mathematics of cryptology, and the Center in Bowie was founded to focus on computational science, all three have developed distinctive areas of expertise. Nonetheless, they work closely with each other and share many overlapping research teams.
IDA's success in providing cutting-edge research in mathematics and computer science to the National Security Agency rests on four key pillars: exceptionally talented and versatile researchers, state-of-the-art computational capabilities, a close working relationship with NSA, and ongoing engagement with the broader research community so that the work can take advantage of advances in the academic and commercial worlds.
Our People
The signals intelligence and cyber security problems the nation faces today are complex, and will require creative ideas, interdisciplinary teams, and extraordinary efforts. One of the distinctive aspects of IDA's Center for Communications and Computing is that techniques, algorithms, and software developed for one purpose can be used for diverse problems as they arise in areas outside their original sphere. The disciplinary mix at the Center for Communications and Computing gives a sense of our intellectual diversity, which is a strong force behind these serendipitous uses.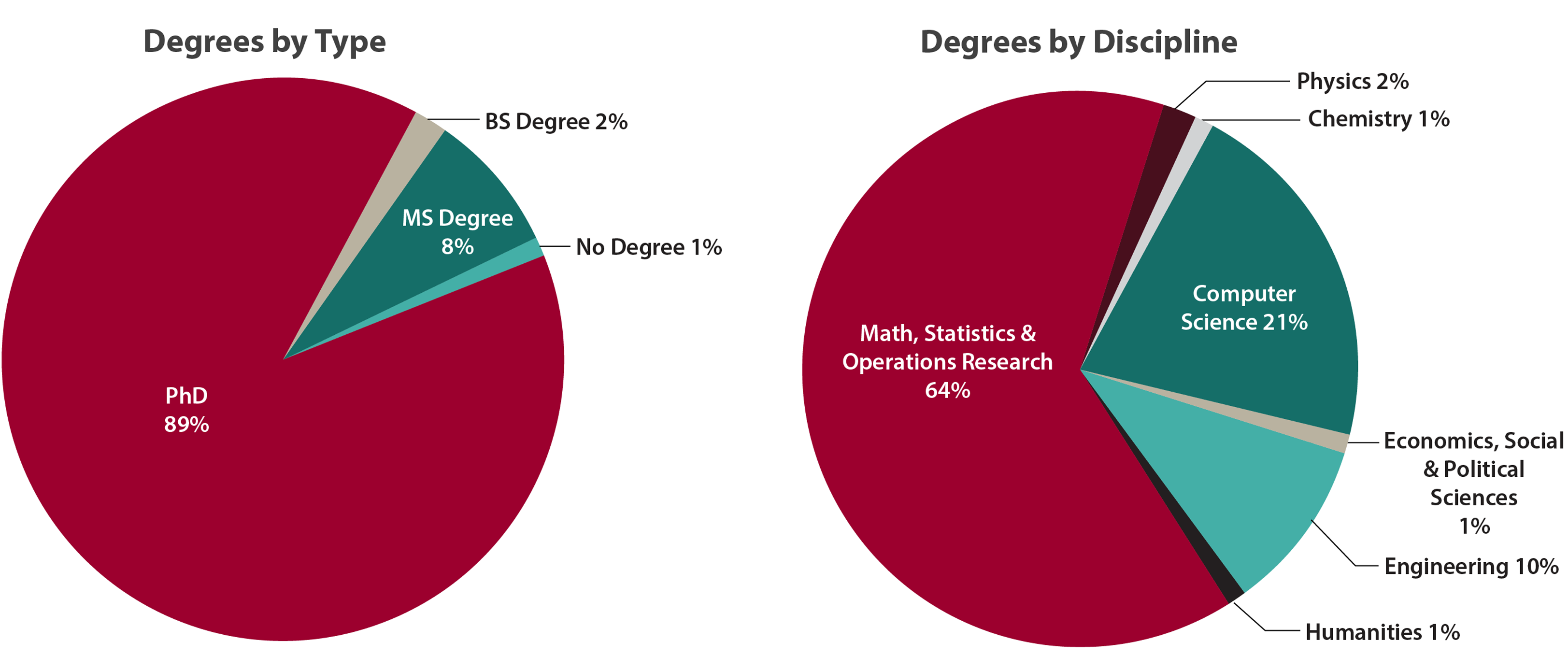 Engagement with the Broader Research Community
The research community at the Center for Communications and Computing is encouraged to maintain connections, where possible, with academic and commercial researchers. There are several opportunities for this kind of collaboration.
Perhaps the most important of these are the summer workshops, which draw academics and others to use a concerted "tiger team" approach to tackling several truly difficult problems each summer. The people invited to these workshops are diverse in many ways: they come from the academic community and other research organizations; there are many levels of experience among the attendees, who range from seasoned researchers, distinguished faculty, graduate students, even occasional undergraduates; the disciplinary backgrounds include mathematics, computer science, statistics, physics, and electrical engineering. In a typical summer, the Center for Communications and Computing hosts well more than a hundred visitors, and the intense and collegial atmosphere is well known.
Engagement with the academic community is also encouraged by inviting academics to visit to give colloquia. There are typically about 100 such talks each year, including distinguished academics from the top universities in the country.
In addition, Center for Communications and Computing researcher staff are invited to give talks at conferences, companies, and academic institutions. These range from talks at major mathematics and computer science conferences to visits to give colloquia at universities and colleges across the country (and beyond).
Finally, the Centers for Communications Research (jointly) and the Center for Computing Science each have a Visiting Committee, consisting of distinguished researchers who are invited to visit to hear about current research developments. These committees visit for three days a year, and also are asked to assess research quality, comment on outside trends, and advise IDA management.