Personnel Productivity
Military Training: IDA conducts assessments to evaluate and improve military training. Examples include…
---

Evaluating unit training distractions and quantifying the time spent on non-core military activities
Identifying core irregular warfare training skills that the DoD should maintain following OEF/OIF
Assessing the incorporation of foreign language, regional expertise, and cultural content into professional military education
Examining the interagency knowledge and skills of both military and civilian senior executives
Conducting a quantitative and qualitative return on investment of the military service academies
Research Spotlight: Achieving years of Navy IT training and experience in just four months
---

IDA's analysis of the DARPA Digital Tutor found that sailors who used this novel training system in a 16-week course substantially outperformed technicians with years of experience and graduates of a traditional 35-week training on a range of troubleshooting tests
See our report and publication in the Review of Educational Research
Measuring Readiness: Metrics to enable leaders to track readiness levels and predict operational capacity
---

Tracking readiness
Using 10 years of monthly readiness reporting, IDA identified where drivers of readiness ratings were masked by aggregated, higher level reports. IDA suggested alternative metrics to enable leaders to verify that readiness levels were improving
Operational capacity
IDA investigated the demand associated with operational plans, including the sequencing of forces, component, and readiness levels. IDA's model provided a means to see where investments in readiness levels, by component, could enable force elements to meet faster demand timelines
Research Spotlight: How do Full-time Support (FTS) personnel affect Army National Guard (ARNG) readiness?
---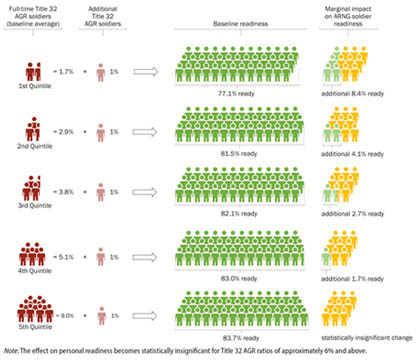 IDA modeled ARNG soldiers' individual readiness as a function of the number of FTS personnel assigned to a unit. Results showed a robust, positive effect of FTS personnel on readiness of soldiers in their unit, with larger impacts in units with fewer FTS personnel. The analysis helped ARNG leaders understand the payoffs to their personnel investments and more effectively allocate FTS personnel to generate and maintain readiness
See a summary of IDA's report here
Workforce Mix
DoD Civilian Workforce: Developing new approaches to improve DoD civilian hiring and retention processes
---

Examples include…
Identifying
barriers in the hiring process
, mis-alignment of authority, and inefficiencies in
compensation policies
Proposing new talent management principles to hire, develop, and retain quality civilian leaders
Understanding DoD's requirement for digital engineering personnel, and describing the costs and benefits of programs and structures to managing their education, training, careers, and compensation
Workforce Mix: IDA's research helps DoD efficiently meet readiness objectives and build a capable joint force
---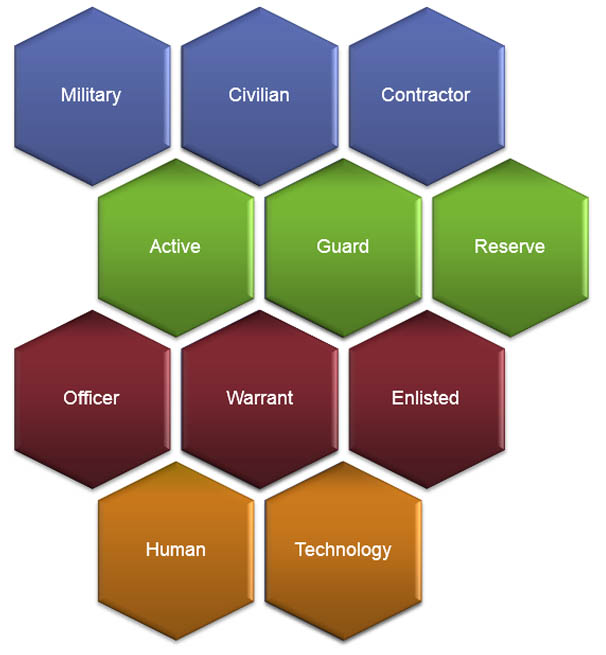 Which jobs are best suited for personnel versus technology solutions?
Should a position be filled by military, civilian, or contractor personnel?
If military, should it be in the Active or Reserve Component?
And does the position require an officer, warrant officer, or enlisted service member?
Research Spotlight: Operational assessments of Reserve Component (RC) forces in Iraq and Afghanistan
---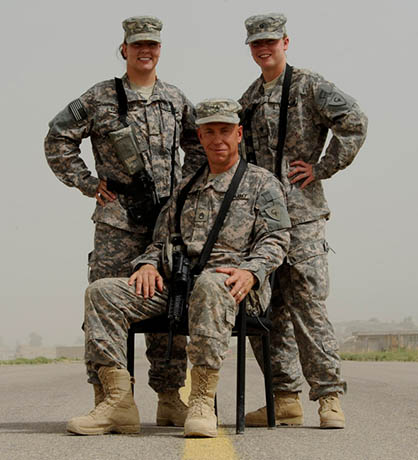 In a series of studies, IDA compared active and reserve component organizational performance during OPERATION IRAQI FREEDOM (OIF) and OPERATION ENDURING FREEDOM (OEF). Metrics derived from multiple classified and unclassified databases revealed that reserve component forces often equaled or surpassed active component performance. This finding suggests areas for potential force mix changes with less operational risk.
Research Spotlight: Developing a model for force structure planning under uncertain requirements
---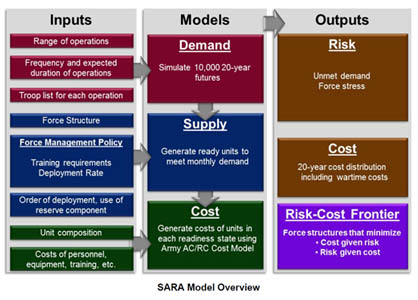 The optimal future force size and Active/Reserve Component mix depends on operational requirements. However, future requirements are uncertain. The SARA model estimates how well various force structures can meet demand, and relates force structure decisions to operating costs and recruiting requirements. By characterizing force structures in the risk-cost space, the model provides a method to balance the risk of operational shortfalls with the costs of maintaining a larger force.
See our report to learn more